Raja Ampat is certainly among the most beautiful places in the world for diving and snorkeling. Here, in the same dive, you can see pygmy seahorses, manta rays, sharks and barracudas. And the coral is perfectly intact, colored in its immense variety and often of impressive dimensions.
Biodiversity
Raja Ampat has the largest marine biodiversity on the planet.
Species present:
Coral: 650
fish: 1300 (350 endemics)
shellfish: 700
turtles: 6 out of 7 existing
marine mammals: 17
wobbegong (carpet shark)
walking shark
Environmental info
The water temperature is between 28 ° and 30 ° throughout the year. A 3 mm long wetsuit guarantees both thermal protection and guard from marine organisms.
The transparency of the water always gives very good visibility (> 25 m), sometimes exceptional (> 40 m), even during the richest plankton season from November to June, which facilitates the encounter with the large manta rays.
Currents: depending on the tides, strong currents can occur in some dive sites, therefore characterized by very large quantities and varieties of fish. Depending on the preferences and the preparation of the divers it is possible to choose protected spots to enjoy easy dives, without current, but still very rich in life.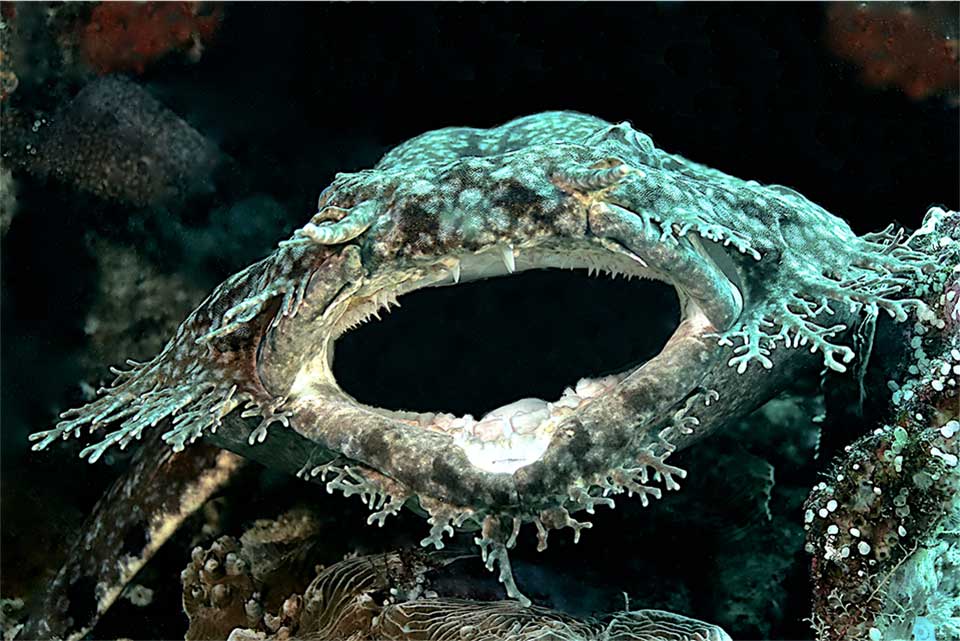 Dive sites
We count 65 dive sites, reachable from 5 to 75 minutes by boat. It is possible to fly on pristine reefs in the middle of the ocean, be surprised by the quantity of fish on the heads of the islands, admire the reef creatures under the peaceful jetties of the villages. In the waters of Raja Ampat the greatest concentration of fish is found between the surface and 20 meters deep. The presence of currents is possible in some areas. This brings nourishment and therefore a lot of biomass. The snorkeling activities are however conducted in calm waters and always accompanied by expert guides.
Manta sandy. Approximately 15 minutes by boat is the most popular dive in the area, where it is possible to have a close encounter with both white and black ocean mantles. The sightings are much more probable in the period November – March. On a large sandy bottom at 16 meters there are three cleaning stations on big coral rocks. It is a very easy dive, also suitable for snorkelers who can see these giants directly from the surface.
Mios Kon is a desert island populated by thousands of bats and that offers an incredible spectacle underwater: hundreds of striped yellow snappers swim among large gorgonians; on the bottom you can meet the wobbegong (carpet shark that is found only in this part of the world) hidden in the shade of the corals. Often in the blue you can spot black-tip sharks, white-tip sharks and large tunas. Our guides will help you find even the rare Orangutang crab among the pink anemones.
Melissa's garden, an immense garden of hard and soft colored corals with clouds of reef fish; perhaps the dive with more coral in the world. Impressive number of Anthias in every corner of the reef. Easy meeting with various types of pygmy seahorse. The exterior is also beautiful with colored lagoons of all shades of blue facing white beaches. On the top of the reef we meet sharks, barracudas and napoleon wrasse. The conformation of the seabed and limestone emerging from the waters makes the site suitable for snorkelers too. The excursion is a full day, and allows you to visit the wonderful Pyanemo lagoon.
Barracuda point, a shoal with a lot of fish where you can meet large groups of barracudas that will turn around curious about your presence.
The wall. Beautiful colored wall covered with soft corals and giant gorgonians on which you can see the pygmy seahorses.
Mike's point, a small coral reef where you can see large caves populated by numerous fish. Herds of large sweet lips stand motionless with their faces turned towards the current.
Sardines reef and Blue Magic are judged to be two of the most beautiful reefs in the world. Here you can meet huge schools of large yellow-tailed fusiliers, jackfish of all sizes, spanish makarel, tuna, gray sharks, white tip sharks and large black tip sharks. During the safety stop the mantas let themselves be caressed by the bubbles of the divers, giving emotions and memories that will be imprinted for a long time in the memory of each one.
Yenbuba. Beautiful reef populated by an impressive number of fish. Easy to meet a school of large barracudas and giant groupers. Under a table coral with impressive dimensions, large specimens of Wobbegong are frequently sheltered. You end the dive under a jetty full of life that offers unique photographic opportunities. A sighting with the Pontoi pygmy seahorse and large turtles is possible.
Cape Kri, where every encounter is possible. Exciting spot also if you have hundreds of dives. The incredible amount of fish distracts you from admiring the seabed rich in corals and colors. One of the most beautiful dives in the world.
Arborek Island. Pretty island home of the most beautiful local village. Extremely colorful and rich in fish. Easy encounter with sharks, bumphead parrotfish, Bargibanti pygmy seahorses. Beautiful the jetty especially when millions of sardines arrive to form compact walls, which surround the supporting poles until they disappear from view.
The caves. It is a system of partially outcropping caves that can be visited during the excursion to The Passage, a narrow and long stretch of sea, similar to a tropical river and set in a Jurassic environment. Inside there are incredible plays of light that filters through underground openings. The largest cavern has a large opening in the vault that allows you to see the tropical forest. It is possible to move from one cavity to another through passages in the rock which, despite being easy to access, give the idea of cave exploration. Here lie nudibranchs with amazing colors.
Marco's Reef, Mara's garden, Lobster Wall, Jeffry reef and others. In all these sites you can find gray sharks, white tip sharks, black tip sharks, manta rays, lobsters, schools of fusiliers composed of thousands of fish, turtles, all coral reef fish, shoals of bumphead parrot fish, jackfish and barracudas. In addition, all the small critters with nudibranchs, seahorses and ghost pipe-fish. Of special addition to the wobbegong shark (carpet shark) is the walking shark (the shark that walks, very rare but possible to sight especially at night), a shark only recently discovered.
Nelayang South and North. This small island with incredibly transparent waters and intense current has two dives quite similar where you can observe big gray sharks that come close to the divers curious about their presence. Possible encounters with schools of fish including barracuda, platax, sweet lips. Also easy to observe spanish mackerel (they can reach two meters in length) and other sharks: white fin, black fin and wobbegong.
Sauwandarek. Just 15 minutes by boat, one of Raja Ampat's most characteristic and easy dives. A large lettuce coral is home to snappers and sweet lips, leaf fish gently sway on madrepores, while pygmy seahorses are camouflaged among the gorgonian branches. Platax and barracuda can be approached without fear, as are turtles. The marine life under the jetty of the village is amazing, a real paradise for photographers and snorkelers.
West Mansuar. The western cape of the great island north of Agusta never disappoints. Large napoleons, black tip and white tip sharks, tuna, jackfish and barracudas alternate in carousels that disorient divers and snorkelers. During the mantas season these gentle giants pass into the blue, grazing the gently sloping wall.
Agusta housereef. It is the perfect setting for a check dive, full of coral but also the sandy stretches where whizzing blacktip reef sharks and lounging Wobbegong. Snorkelers can swim in search of clownfish and blue spotted rays, surrounded by hundreds of species of reef fish.