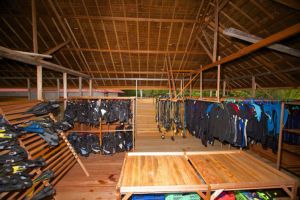 The diving center is facing the Agusta pier. Here you can rent complete diving equipment or snorkeling equipment. Refills of 12-liter cylinders can be air or Nitrox (at extra cost).
Every day two to four dives are organized. During the morning briefing the safety procedures are reviewed along with the weather and sea conditions planned for the day, details of the dive and snorkeling sites are described and the assignments of the diving groups to boats and guides are communicated. The divemaster: divers / snorkelers ratio does not exceed 1: 4. In the team there are five instructors, who guarantee fun and tranquility to the guests.
On boats, divers / snorkelers have towels, tea, coffee, biscuits and fresh water available, which are served during the surface intervals. During breaks between one dive and another, we visit beaches, lagoons or local villages. Of course the boats are equipped with oxygen and first aid kits.
In respect of marine life and in compliance with local laws, the use of gloves is forbidden, while every diver must have a SMB available.
Scuba insurance is mandatory throughout Raja Ampat. 

The nearest fully equipped hyperbaric chamber is located in Waisai and is 45 minutes by boat from Agusta.
DIVE COURSES
During the holiday at the Agusta Eco Resort it is possible to start a first diving experience with the Discover Scuba Diving course, obtain Open Water Diver patents, Advanced Open Water, Rescue Diver and Divemaster, various specialties (such as Deep Diver and Nitrox), or, if you haven't been immersed for a long time, refresh your skills with our instructors.
SNORKELING
Snorkeling in Raja Ampat is simply exciting. Hundreds of reef fish species are hosted by an immense variety of perfectly intact hard and soft coral. The color is always intense, and turns from the strongest shades of orange anemones to the pastel of madrepores and alcionaria. Black-tip sharks, along with turtles and eagle rays often keep company while swimming, giving emotions that can only be lived so intensely here. The guides identify nudibranches, crabs and prawns that would otherwise escape the less experienced looks, guaranteeing maximum safety with their presence.